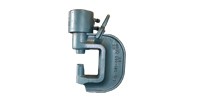 top wasting time drilling! Use the economical way and punch it! Work smarter and faster… not harder.
Fact: Punches and dies last thousands of holes longer than drills and all of the holes are clean.
Fact: It takes much more time to drill a hole than it does to punch it.
Fact: A CNC Beamline or Anglematic is much more accurate than a handheld drill.