Machine Exchange is an Option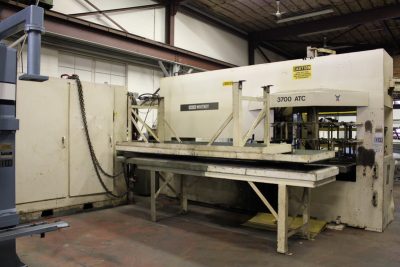 Give us the opportunity to quote you a Completely Refurbished Machine in exchange for your old machine!
Are you Completely happy with your old Punch / Plasma Machine?
Do you have things you would like changed given the opportunity?
Wanted a Control retrofit but, expense was a deterrent?
Considered a torch retrofit but expense was stopping you?
W.A. Whitney CNC Plasma Fabricator 3400 RTC(60)
MANY PARTS & EXTRA TABLES
W.A. Whitney CNC Plasma Fabricator 3400 RTC(60)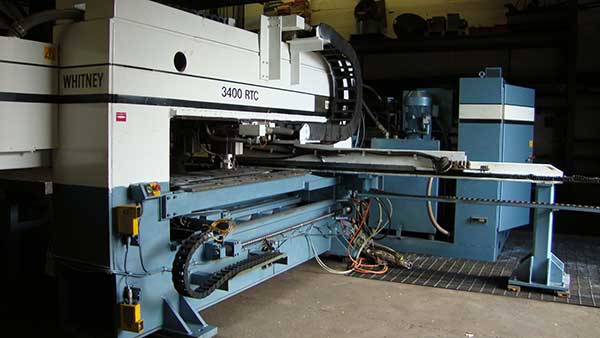 | | |
| --- | --- |
| Year: | 1998 |
| Tonnage: | 40 |
| Throat: | 60″ |
| Sheet Size: | 60″ x 120″, Plus Repositioning |
| Control: | Fanuc 16P CNC |
| Table Speed: | 1000 Inches/Minute |
| Hit Rate Per Minute: | 125 Hits per minute on 1″ center in 10 Ga. |
| Maximum Thickness: | .500″ Mild Steel, 1,000 Lbs. |
| Turret: | 9 Stations |
| Capacity: | 5″in. 250″, 3.690″in. 312″, 2.750″in. 375″, 1.0″in. 500″ |
| Accuracy: | +/- .005″ |
| Plasma Cutting: | 160 Inches/Minute in .250″, 100 In/Min in .375″, HT2000LHF True Cut System |
| Trap Door: | 24″ x 60″ |
MANY PARTS & EXTRA TABLES AVAILABLE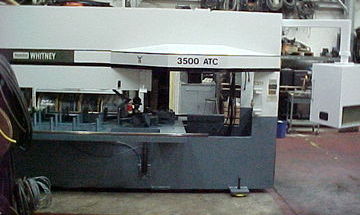 Control…………………………G.E. Fanuc 00P CNC
Punching Capacity…………….40 Tons
(Standard 33)
Maximum Sheet Thickness……1/2″
Positioning Accuracy…………..+/- .005″
Maximum Axis Speed……………1200 IPM
Number of Tool Stations……………30
Maximum Sheet Weight…………….650 lbs.
Positioning Area X…………………….90.000″
Y…………………….50.000″
Floor Space……………………………..22′ wide x 21.7 deep
Plasma Unit……………………………..Hypertherm HT2000
Whitney 3700ATC (Refurbished)
MANY PARTS & TABLES AVAILABLE
(USED Small Parts Conveyor & Slug/Slag ConveyerS AVAILABLE)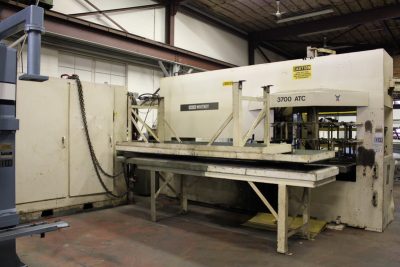 Age:
1997
Capacity:
40 Tons
X-Axis Travel:
120″
Y-Axis Travel:
63″
Maximum Hit Rate using 1/4″ Punch in
10 Ga Material w/1″ Move:
160 HPM
Maximum Material Thickness:
.625
Machine Punch Dia:
5″
Maximum Positioning Speed:
2,000 IPM (X&Y)
Rotary Ram

Equipped With:

Hypertherm HT2000, 200 amp plasma source
Fanuc CNC OOP Control
Programmable trap door
Dust collector
Drop door 18″ x 24″
Parts conveyor
Slug conveyor
W.A.Whitney™ 661-60 x 160 15ATC
PARTS AND EXTRA TABLES AVAILABLE
W.A.Whitney™ 661-60 x 160 15ATC